Marisa Ficorella, qualified tourist guide
Specialist in Classic Archaeology
Providing private tours since 2009
Contact me to plan your custom tour and discover Rome with a local!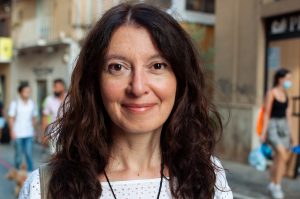 Marisa Ficorella knows the Vatican intimately. She has Vatican certification & years of experience. It would have been impossible for us (2) to navigate the vast area and the crowds. Marisa showed us all the highlights but also gave us a historical perspective of the Vatican as a whole. Marisa knows about all the treasures and all the fascinating details that only a guide with her knowledge can share. It was the best possible way to experience Vatican City
As we had only one day in Rome and wanted more than to just "see" the Forum and Colosseum we booked the "Imperial Rome-Full Day Tour" with Marisa. We found that Marisa is much more than a professional tour guide and a specialist in Roman Archaeology. Marisa is a passionate and all knowledgeable native of Rome. I could go on at length detailing the ancient historical history she shared but just as interesting were her insights on the impacts of ancient Roman customs and culture on modern Rome.
We loved our tour with Marisa in Rome. Our private tour for 4 tour included Colosseum, Palatine Hill, and Roman Forum. Marisa is very knowledgeable about each location's history, architecture, art, and more. We liked the fact that she had some images to show us that helped explain points she was making about the past. We would 100% book Marisa again if we manage to make it back to Rome!
Marisa did a superb job. She was on time and ready to get started even throughout the rain. She was very knowledgeable, personable and funny. We enjoyed her tour very much. She was very flexible with her schedule and always answered all of our questions with enthusiasm. She treated us like family and made us feel welcome in her hometown of Rome. She is an excellent tour guide and we recommend her highly!