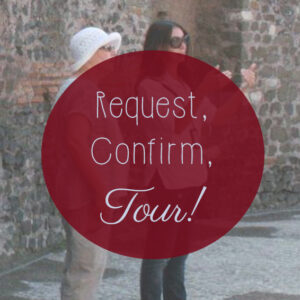 RATES 2020-2021
55€ per hour
165€ for a an halfday (3 hours)
385€ for a fullday (7 hours)
the price is PER TOUR not PER PERSON.
I do only private tours for small groups (max 10 pax)
Every tour is stricly private (just your group, no strangers.)
HOW TO BOOK A TOUR
BEFORE CONTACTING ME:
You'll find a detailed list of standard questions about my tours with my replies at the link below.
REQUEST:
If you want to book a tour with me, send a message to info@romewithmarisa.com or fill the form on my "Contact me" page.
I'll reply as soon as possible to confirm my availability.
If you did not receive a confirmation email from me, please check your Spam or Junk email folders.
After my quote, If you're interested in hiring me as your personal guide in Rome, just reply to my messages and I'll design  the perfect tour for you, choosing the best timing/ meeting place.
I'll hold the date for you for max two weeks then, in case of no answer, I'll accept other requests. I'm not a tour company, but an indipendent guide, so my availability is limited.
I do not take reservations by phone, sorry.
CONFIRM:
When you are ready to book the tour, I'll ask you to fill a form to confirm the booking. I need name, date of birth and so on..I need those datas only to archive your booking and for the invoice (according to an Italian Law D.Lgs 196/2003 Administrative Use Only). Your tour will be confirmed only after that.
I'll send you a booking page that you can print and take with you (with my contacts, as my mobile numbers, and details about the meeting point).
Please read carefully the final message, since I'll follow the schedule on the booking.
DEPOSIT:
Sending a deposit (15€ or 50€) at the moment of the booking is suggested but not compulsory.
PAYMENTS:
I accept several methods of payment:
1.  PayPal ( PayPal account required)
2. Credit card via PayPal (PayPal account not required).
3. cash the day of the tour
4. credit card the day of the tour (using an app + my phone)
INVOICES:
I'll fill an Invoice in Italian,  after your payment. If you need a copy just let me know I can make an English version.